La Strada del Vino Terre di Arezzo
The "Wine Road" runs through magnificent wine-growing areas that offer natural, cultural and historical attractions in addition to vineyards and wineries in an integrated tourist experience. The Wine Road represents traditions deeply rooted in the history of our region, in the countryside itself that has been molded by the hard work of farmers over the centuries, but at the same time the reflect the capacity of innovation in quality and ideas expressed by many of our vine growing and winemaking establishments. They represent quality and culture.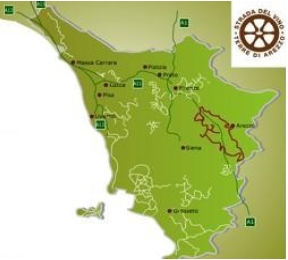 Strada del Vino Terre di Arezzo was established in 2001 and recognized by a Regional Law with the aim of promoting the territory through its fine wines and excellent food.
In a land rich in art and history, dear to the Etruscan and Roman fathers, punctuated by medieval churches and castles, portrayed by Piero della Francesca, Signorelli, Masaccio, traveled by Dante and Petrarca and present in the charm of Guido Monaco's notes, Strada del Vino Terre di Arezzo Wine leads the wine tourist in the heart of Tuscany to discover excellent wines, traditional crafts and quality gastronomic proposals.
The route, which winds for about 200 km, crosses the whole wine territory of Arezzo's area and represents the Chianti DOCG and Chianti Colli Aretini DOCG, Cortona DOC, Valdichiana Toscana DOC, Val D'Arno di Sopra DOC and the numerous IGTs.
To us the grateful task of witnessing wine as the essence of our world that is earth and work, lifestyle and story. Guided by the scent of wine, we will lead the guest to discover wineries and refreshment points, hospitality, people, nature and quality of life in the Terre dʻArezzo.
 The whole territory is well represented in a great artistic, cultural, landscape interest, a very pleasant itinerary, for those looking for wines, high quality oils and traditional agricultural products. Taking a Wine Route does not mean only tasting or visiting the wineries, but contextualizing aromas and fragrances, conceiving wine as a philosophy of life, experimenting and experiencing the truest roots of those who live in the countryside: a cultural richness and traditions.
WHO ARE UOR MEMBERS
Today the Association has about 115 members including: individual or associated wineries, Farmhouses, companies specializing in local productions, wine bars, restaurants, tourist-accommodation companies, craft businesses, associations operating in the cultural field, the Province of Arezzo and the municipalities that make up the province: Arezzo, Bucine, Cavriglia, Capolona, Castelfranco - Pian di Scò, Castiglion Fibocchi, Castiglion Fiorentino, Civitella in the Val di Chiana, Cortona, Foiano della Chiana, Laterina - Pergine V.no, Loro Ciuffenna, Lucignano, Marciano della Chiana, Monte San Savino, Montevarchi, San Giovanni V.no, Subbiano, Terranuova B.ni.
Strada del Vino Terre di Arezzo
Via Ricasoli, 38 – 52100 Arezzo
Tel/Fax (+39) 0575 294066
Web: www.stradadelvino.arezzo.it
Email: info@stradadelvino.arezzo.it
Facebook: /StradadelVino.TerrediArezzo/
Twitter: @StradaVinoAR